08/31/2022
September Calendar & Inspection Dates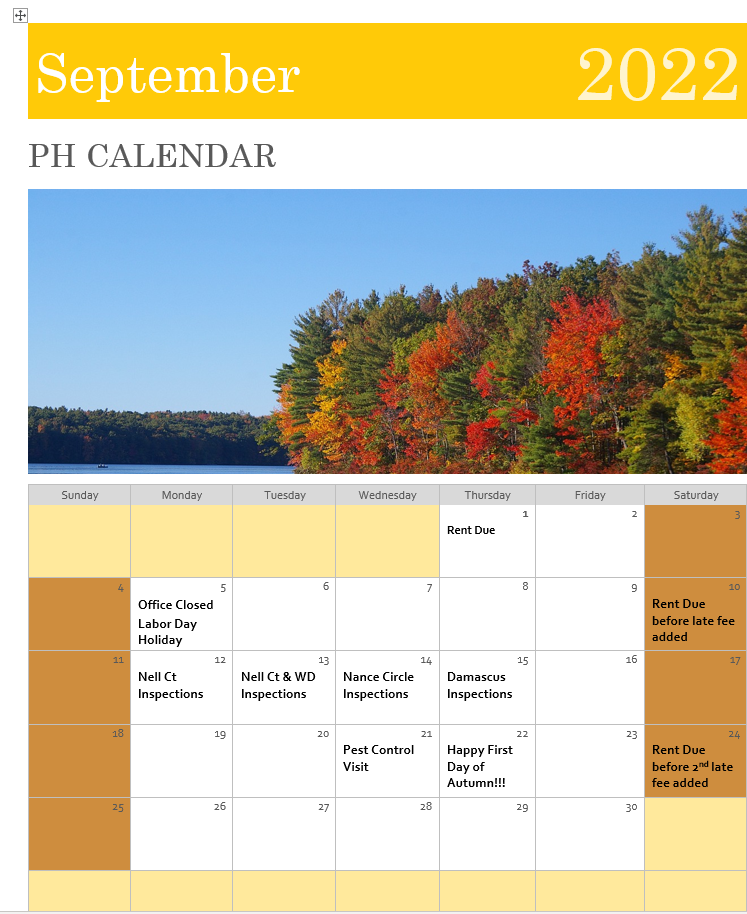 TO: TENANTS OF ENTERPRISE HOUSING AUTHORITY
Damascus, William Donald, Nell Ct, and Nance Circle
RE: Housekeeping Inspections
On September 12-15, the Public Housing Manager will be conducting quarterly housekeeping inspections.
These inspections are to ensure that the Housing Authority and the Tenants are meeting HUD guidelines in the unit.
These inspections are necessary to prepare for HUD REAC and INSPIRE inspections.
Schedule:
September 12: Nell Ct
September 13: Nell Ct & William Donald
September 14: Nance Circle
September 15: Damascus
We will be inspecting your apartment to check for such items as:
- Air Filters changed and water heaters closets clean - Drain Stoppage
- Leaks under the sink - Graffiti on buildings
- Refrigerator gaskets - Clogged drains
- Stoves/Range hoods - Mildew in bathroom - Cleanliness of back and front porches - Broken Windows & blinds
- Checking doorknobs and screen doors - Bugs/Pest
- Blocked windows or entrances/exits - Tripping Hazards
- Structural damage (i.e., holes in walls, etc.) - Yard Maintenance (Litter)
- Electrical socket face plates - Cleanliness of Unit
- Missing or disconnected smoke detectors - "Call for Aid" systems
- Light bulbs (all light fixtures must have at least 1 working bulb)
Please be advised that it is the tenant's responsibility to notify the Housing Authority of any needed work orders.
You do not need to be home when your apartment is inspected, however, you may be in your apartment if you prefer to be.
Also be aware, that should your apartment not pass inspection, your tenancy could be jeopardized, and you lease could possibly be terminated.
If anyone in your household is under quarantine, you must notify the office at least 24 hours prior to the day your complex is scheduled.
If diagnosed on the day of inspection you must immediately notify the Housing Authority.
Should you have any questions, please do not hesitate to contact the Public Housing Manager.
Respectfully,
Kalyca Biggers
Kalyca L. Biggers
Public Housing Manager
______________________________________________________________________________________________________________________________________________________________________________________________________________
PARA: INQUILINOS DE ENTERPRISE HOUSING AUTHORITY
Damascus, William Donald, Nell Ct, Nance Circle
RE: Inspecciones de limpieza
Del 12 al 15 de Septiembre, la Gerente de Vivienda Pública llevara a cabo inspecciones trimestrales de limpieza.
Estas inspecciones son para garantizar que la Autoridad de Vivienda y los inquilinos cumplan con las pautas de HUD en la unidad.
Estas inspecciones son necesarias para prepararse para las inspecciones HUD REAC e INSPIRE.
Horario:
12 de Septiembre: Nell Ct
13 de Septiembre: Nell Ct & William Donald
14 de Septiembre: Nance Circle
15 de Septiembre: Damascus
Inspeccionaremos su apartamento para verificar si hay artículos tales como:
- Filtros de aire cambiados y calentadores de agua armarios limpios - Parada de drenaje
- Fugas debajo del fregadero - Grafiti en edificios
- Juntas de refrigerador - Desagües obstruidos
- Estufas/campanas extractoras - Moho en el baño
- Limpieza de porches traseros y delanteros - Ventanas y persianas rotas
- Cerraduras de puertas y puertas de screen - Insectos/Plagas
- Ventanas bloqueadas o entradas/salidas - Peligros de tropiezos
- Daños estructurales (es decir, agujeros en las paredes, etc.) - Mantenimiento del patio (basura)
- Placas frontales de enchufe eléctrico - Limpieza de la unidad
- Detectores de humo faltantes o desconectados - Sistemas de "Convocatoria de Ayuda"
- Bombillas (todas las lámparas deben tener al menos 1 bombilla de trabajo)
Tenga en cuenta que es responsabilidad del inquilino notificar a la Autoridad de Vivienda de cualquier orden de trabajo necesaria.
No necesita estar en casa cuando se inspecciona su apartamento, sin embargo, puede estar en su apartamento si prefiere estar.
También tenga en cuenta que, si su apartamento no pasa la inspección, su arrendamiento podría verse en peligro y su contrato de arrendamiento podría terminarse.
Si alguien en su hogar está en cuarentena, debe notificar a la oficina al menos 24 horas antes del día en que se programe su complejo.
Si se diagnostica el día de la inspección, debe notificar inmediatamente a la Autoridad de Vivienda.